Carpet Remnants
In-Stock Carpeting Remnants from Name-Brand Companies
Take advantage of a unique offering of decorative, stylish, and affordable carpeting when you visit our flooring store. If you are looking to revitalize your space on a budget, a great way to spruce up the rooms in your home is with carpet remnants. These are not leftover parts or poorly cut pieces but instead never-used short rolls of carpet flooring that's sent straight to us from the manufacturers. From floor runners to stairway carpeting, you'll discover that there are many uses for these high-quality carpet remnants.
Our flooring showroom is packed with name-brand flooring of all types, including in-stocked carpeting. Due to the established relationships we have with our manufacturers, we have access to the area's largest selection of woven wool and wool blended short rolls. These rolls are from current or recent lines, come in a range of beautiful colors, and include all types of popular materials. Some of the brands of in-stock carpeting remnants we carry include:
Stanton™
Nourison™ Industries
Godfrey Hirst ™
Hibernia Woolen Mills ™
Robertex ™
Karastan ™
Masland Carpet & Rugs ™
We Bind & Pad In-Stock Carpeting Remnants
When we cut the remnants off of the roll, this is the perfect opportunity for you to turn this piece of flooring into a beautiful rug or functional piece. Speak to our in-house team, who are experienced in binding or serging the carpet for you. They help give it the appearance of a rug by finishing the edges in the way you prefer. Our flooring team is happy to show you the difference between each option. For example, binding is a smaller, more traditional edge to the rug, while serging draws attention to the edge and involves a longer stitch. To make your carpet remnants feel like an area rug underfoot, we offer to pad your new rug with a synthetic padding called "Super Move Not." This material is slip-resistant, keeps the rug in place, and eliminates small wrinkles, which could present tripping hazards.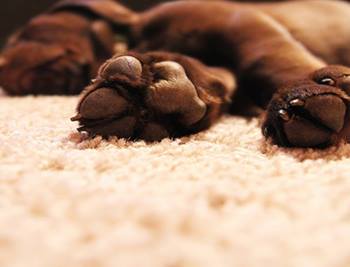 Complement Your Home Décor with Custom-Cut Carpet
The wide range of in-stock carpeting we have available in our showroom means you will find a pattern to match your design preferences. You'll receive assistance from our trained and certified staff to find the perfect style for your home. Compared to pricing on other flooring, you can enjoy price reductions of 50%-70% off on your new custom-cut carpet. If you are looking for environmentally friendly fibers like wool, or if you want a traditional trellis pattern, we have the styles in stock to match your preference. Give your home the makeover it deserves when you visit our flooring store today.